Our Eye Doctor – Dr. Thobani
Meet Dr. Azzrah Thobani – owner & founder of Eye Care By Design.
---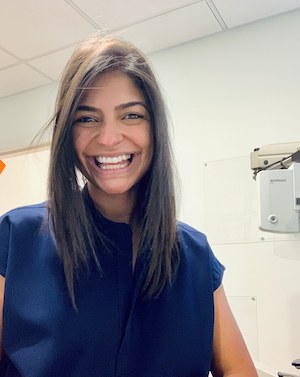 Born and raised in Nairobi, Kenya, Dr. Thobani received her BSc. at McGill University and her Doctorate of Optometry, with honors from the Illinois College of Optometry in 2009. After graduation, she completed a medical retina fellowship in Hereditary Retinal Disease at the University of Illinois. Dr. Thobani is a proud fellow of the American Academy of Optometry.
As an advocate for preventative eye care, she prides herself on the importance of patient education and the personalization of care. She treats every patient with a high level of service and comfort. Her commitment to eye health has led her to volunteer in Kenya, Honduras, Thailand, and Rwanda where she led outreach programs to provide education and improve vision quality for those in need.
Her dedication to the quality of care of her patients inspired her to open Eye Care By Design where we believe that everyone deserves to feel and look their best while receiving the highest quality of care. The practice offers full-scope medical optometric care including comprehensive exams, annual wellness exams, diabetic exams, glaucoma consults, contact lens fittings and evaluations, allergic eye problems, cornea problems (including dry eye), and the management of ocular pathology. Her clinical background includes co-managing surgical cases for cataracts and refractive surgery (LASIK, PRK).
Schedule your visit with her today! Call 312-761-9660 or conveniently book online through our website.
Read about Azzrah Thobani, OD in the Women in Optometry websitepost
---